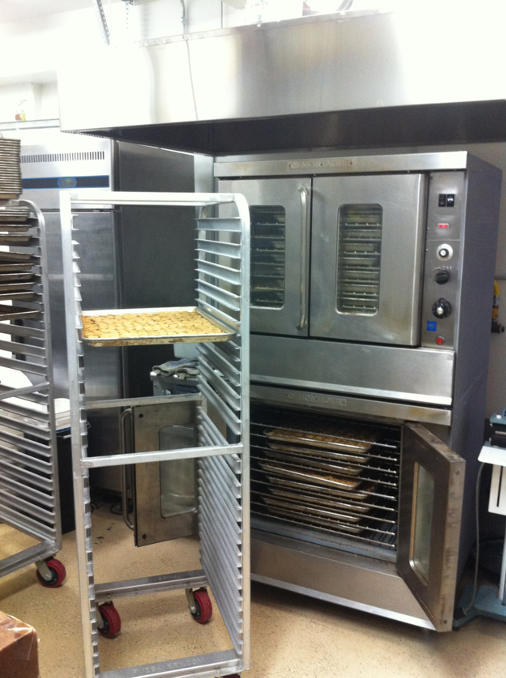 Ever wonder how I get those biscuits so perfectly round and all the same thickness?
Ya ever hear of the Keebler Elves? ... the "Menehune" little people of the Hawaiian Islands?...  how 'bout Willie Wonka's "Oompa Loompas"..ever hear of them?
Well.... in fact none of them have anything to do with shaping my biscuits of course!
In fact... it's this guy:
Yep...about 3 years ago I couldn't take Ron bellyaching  any longer about having to roll the dough out with a sheeter and cut all those babies by hand with a home-made biscuit cutter he made.
So I bought him this "Formatic" machine... aren't I swell?
It is a little faster than cutting by hand... and like I always tell Ron.. with all the extra time it saves he should use it wisely.. like I do.. for things like:
a little thing I like to call "Nap  Around the Clock"....... you get the idea..
binge watchin' "The Office " while wrapped in a "Slanket" and eat'n meatball subs
giving the UPS guy a super-duper verbal bark-lashing for knockin' on the door and interrupting my mid-afternoon cat nap
  Hey.. Who took my "Slanket"???
Whats all this got to do with winning Treats you ask?
Well play that  Formatic video again a few times pardner...Did ya see at the end there was a monitor playing a movie?
I let Ron watch movies & such while he stands there hour after hour.. loading trays of biscuits and puttin' em' in the oven..thanks TCM Movies!  
So when I saw that video  I thought up this little brain-teaser..Who doesn't like Winning something?
Rules are real simple:
First person to email me at lucky@luckydogsbakery.com that can identify the NAME of the movie Ron was watchin' on the video.. Gets (1) FREE 5 lb Bag of Treats !!!  ( your choice of flavor)
the next (5) people  that email with the correct answer will get 25% off their next order...( I will email you a code you can use at checkout)
That's it!!! Simple right??? Whaaaht?? you wanna hint???  Ok...  Take a look at the mug of the guy on the left.. that profile is very distinctive.and.. the movie was from 1962.
Ok gotta go... UPS guy is at the door again...
Lucky