Lucky's Super Sampler
5lb Bag
$35.95
Lucky took equal portions of Peanut Butter, Liver, and Sweet Potato treats..put them all together in one bag.. and his signature "Super Sampler" was born.
You get 3 different kinds of treats in a single bag!  What a concept!  Move over sliced bread!
Made with ALL ORGANIC ingredients
 Ingredients: Organic Oat Flour, Organic Barley Flour, Water, Organic Eggs, Organic Canola Oil, Organic Flaxseed, Organic Sunflower Seed, Organic Chia Seeds, Organic Powdered Ginger, Organic Chicken Livers, Organic Honey, Organic Molasses, Organic Yams, Organic Peanut Butter
Guaranteed Analysis: Crude Protein (min) 7.5%, Crude Fat (min) 7%, Crude Fiber (max) 4.5%, Moisture (max) 18% or less
Customer Reviews
11/25/2020
Robert B.
United States
Great service
My dogs love the Super Sampler and I always get our resupply within days of reordering Great customer service Rob
07/21/2020
Bonnie E.
United States
Love These Cookies
Our shelties really like these cookies. I like to have them on hand because (1) our 13 yr old dog with missing teeth can chew these easily (2) they are small enough for smallish dogs; they don't fill them up in one gobble Easy to order; carefully shipped; made locally with local ingredients
05/24/2020
Melena G.
United States
Amazing & great customer service.
My dogs and I absolutely LOVE luckydogs bakery! I love that the treats are healthy for my fur babies and they love the taste. They can't get enough of them. The sampler bag came with all 3 flavors or treats and my dogs go crazy for all of them. The customer service was amazing! They made sure I was taken care of. I will forever be a Luckydogs bakery customer.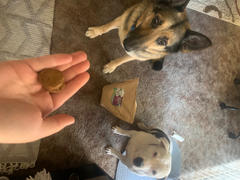 03/02/2020
Bonnie E.
United States
They Love Them!
The minute I took the bag out of the box, my dog was all over me. These are a good size for our shelties and easy enough to chew that our older dog with few teeth can enjoy them. They don't seem to care what flavor I give them, just chomp, chomp. gulp! Please don't stop making them.
12/13/2019
Julie O.
United States
Great locally made treats
My dog likes all 3 flavors so I get Lucky's Super Sampler. These are so handy - just the right size for a reward and neither greasy or crumbly. And locally made! Gotta like that. I'm a repeat customer and will continue to get these for my happy golden.
You might also like