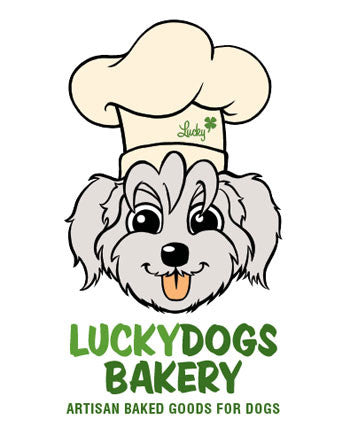 Welcome to my New & Improved Website!
For those of you new to Luckydogs Bakery.. Hello !!  To returning customers.... We think you'll love some of the changes we made like:
New lower shipping prices!!!   Even FREE over $75.00    Yeah!!!  Thanks USPS!!
Quantity Discounts!! now if you buy multiples of either the 14 oz. or 2 lb. packages you'll get an even lower price!
A  New Flavor.. and Grain-Free as well!  Who doesn't love Cheddar Cheese?
New packaging!  Lucky's all color co ordinated with his spiffy new green rice paper bags
Adios "Luckytubs" .. it's been real.. but we made the switch to 2 & 5 lb bags so we could slash your shipping costs
Samples.. Samples ... Samples!!   If your dog has never tried Luckydogs before or maybe has been wanting to try another flavor.. Sample packs are a perfect way to go! 
Lucky goes Mobile!  Now it easy to get your favorite treats right from your mobile device.
Ron has been workin'  me like a dog on the new site. Just look at me ... blogging, instagrammin', facebookin'... and all with a set of paws and not hands!  ...you know hard it is to type with paws?    Man I'm Tired!!
Lucky
We would like to sincerely thank the great folks at jaguardesignstudio.com for the design and implementation of his new website!! Thanks guys!!